BERBERE IMPORTS. PART I
BERBERE IMPORTS
8728 Aviation Boulevard  |  Inglewood, California 90301 
www.berbereimports.com
Berbere Imports is a treasure trove of cultural richness and exotic charm. As you step into their vibrant emporium, you are immediately enveloped by the mesmerizing sights, intoxicating aromas, and intricate textures that define this unique destination. Each meticulously curated piece tells a story of distant lands and ancient traditions, inviting you to embark on a sensory journey across continents. The shelves are adorned with intricately handcrafted textiles, vibrant ceramics, and intricate metalwork, each showcasing the artistry and craftsmanship of talented artisans. From bold geometric patterns to intricate filigree designs, every item exudes a sense of authenticity and timeless beauty. The ambiance is alive with a fusion of colors, blending harmoniously to create an atmosphere of cultural immersion and artistic exploration. Whether you are seeking a statement piece to adorn your living space or a one-of-a-kind gift that embodies the spirit of wanderlust, Berbere Imports promises an unforgettable experience, where the world's cultural tapestry unfolds before your eyes.
Berbere is such an incredibly massive space we decided to break it up into two posts. Part I takes you inside the warehouse to the upper floor where many smaller home accessory and decor items are located. Upstairs you will find antique rugs, lighting, mirrors, pots, plates, vases, bowls, lanterns, and so much more sourced from all around the globe. It's a treasure trove of incredible finds!

Watch our full video tour:
Explore our top five items to make THE EST. LIST:
#1 - Burkina Faso Lobi Pot (Africa)
This incredible clay creation dances on the line between modern and ancient art styles. Crafted by a talented local artist from Thailand, it's the epitome of artistic brilliance. No two are the same, and each one has its own distinct charm and character.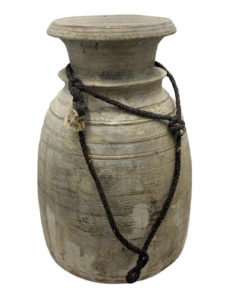 #2 - Indian Wooden Milk Pot (India)
These vintage handcrafted decorative plates are hand carved by artisans from India from one piece of stone. A unique plate that works in any design space is a must-have decorative accent to your environment. The natural patina that only comes from age and use, adds to the beauty of this piece.
#3 - Vintage Java Terracotta Water Pot
Hand-crafted vintage water pots from Java were made by local artisans and traditionally used to carry water. Featuring textured layers of the outdoor elements, colors and terracotta, these pots provide the right amount organic nature to your space. You can see these are available with and without handles. Perfect for outdoor or indoor environments.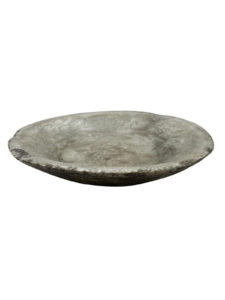 #4 - Vintage Stone Plates (India)
Vintage Indian wooden milk pots are exquisite artifacts that embody the rich cultural heritage of India. Carved from a single piece of wood many years ago, these milk pots are a testament to the craftsmanship of Indian artisans. Using durable hardwoods like teak or rosewood, these pots were once an essential part of daily life. Their narrow tops are designed specifically for storing and transporting milk and butter. Today, these vintage milk pots have transcended their utilitarian origins, becoming prized collectibles and decorative items that evoke nostalgia for a bygone era, making them cherished pieces of Indian cultural history.
#5 - Terracotta Vessels (Thailand)
Revered as sacred vessels for water, African lobi pots were used in temples and homes across Africa throughout the 20th century. They are sphere shaped with a lid and covered with protuberances. These are one of a kind, rare finds from Burkina Faso, from the Lobi tribe. These pots are among the rarest and most prized in African pottery.
We would love to CONNECT! Stay up to date with THE EST. LIST and subscribe to our newsletter below.